An Impression of the Cham Muslim Village's Unique Culture in An Giang
An Impression of the Cham Muslim Village's Unique Culture in An Giang
Post by: Admin - Posted at: October 31, 2018
Chau Doc District in An Giang Province is not only attracted by being the home to some of the largest ethnic Cham communities in Vietnam but also attracted by the unique cultural beauty of this land . This is an interesting country holiday destination for travelers who want to explore the rare culture and religion as well as architecture of the Western Vietnam.
An Impression of the Cham Muslim Village's Unique Culture in An Giang
An Giang is the land of four minority groups, Kinh, Chinese, Cham and Khmer communities living peacefully together for hundreds of years. There are about 13,000 Cham people living in 2,100 households on Chau Giang Islet across the Hau River from the town of Chau Doc. The Chams in An Giang are Muslims so their culture and customs are quite different from other peoples in the region, arousing the curiosity of tourists to the province. Arrival to Chau Giang, you will see a lot of the locals wearing the traditional clothes to live and work, it is not only women but also almost of men also wear it everyday.
Chau Giang Cham village is located in An Phu district, An Giang province, which is bordered between Chau Doc and Tan Chau districts. It is a land of the beginning of the land with many Cham people living, settling. This has created a special beauty with this land, a charismatic culture of ethnic identity.
Chau Giang is also known as the most beguiling Cham village in Chau Doc with the Muslims Mosque, typical wooden house, and traditional brocade waving.
What to explore at Chau Giang Cham village?
Mubarak Mosque
Located in Tan Chau Township, Mubarak Mosque is near Chau Doc City and can be reached by the river after some minutes on Chau Giang ferry
The Mosque has a history of hundreds years. Since most of the Chau Giang Cham locals are Muslims, the Mosque is the highlight of this cult culture. It has a unique architecture, round tower, arch gate. It's really special. The Mosque has a large tower on its roof.
The mosque is also the place having a collection of ten Rapana drums which are rumored to be existed 500 years old. Drums are often played in traditional ceremonies as well as festivals. Locals said that there are only about seven people who can play the drums currently but they are trying to find a successor to keep the tradition alive.
Stilt House Architecture:

Tourists can experience the simple and peaceful life in a wooden stilt house by booking a home stay.The first impression of the Cham village on visitors is the stilt houses which have three pillars and usually roofed with palm leaves or tiles, they have a unique and traditional design. 
The houses are small, architecture is quite special and made from precious wood with very high durability. There is a wooden ladder in front of the house, the entrance door is lower than the average height of one person, it means visitors coming to the house must bow to the owner.
Traditional clothes
Arrival to Chau Giang, you will see a lot of the locals wearing the traditional clothes to live and work, it is not only women but also almost of men also wear it everyday.
Cham people dancing
Traditional Craft of Cham village:
Talking about Cham culture, we can not mention brocade weaving. It is a culture, an indispensable handicrafts of the locals here. Chau Giang Brocade has not only traditional beauty of brocade but also unique in producing with a number of different patterns, mostly known are: "xarong".
At most Cham villages, you can buy local handicraft, scarves, sarongs and clothes made by Cham women, you can see them weave brocade and learn some basic weaving techniques. So it's a good place to pick up souvenirs and gifts to people back home.
Cuisine of Cham village:
In addition, you can try delicious Cham delicacies, especially you should taste "Tung lò mò" (beef sausage) -a specialty of Chăm compatriot in Chau Giang (Tan Chau district).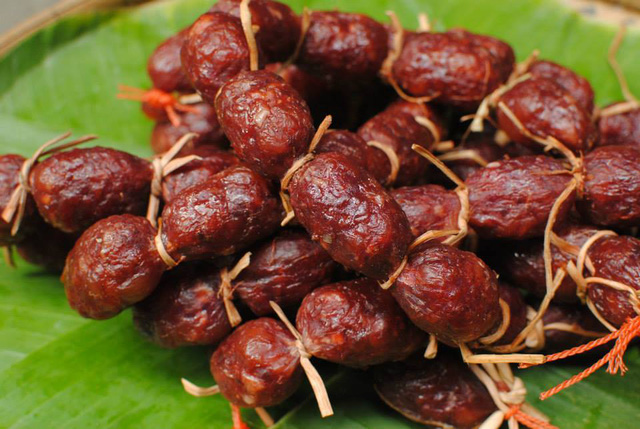 It contributed to promote the unique specialties of An Giang to domestic and international visitors.
You won't regret it.
Fishing village
Fishing is a traditional profession for many generations in An Giang. Highly recommend a trip to the fishing village if you can get one. You will experience getting into the locals' houses to see how they raise several types of fish (primarily catfish) underneath their houses. It's really interesting!!!
How to get Chau Giang Cham village?
-Coming to An Giang by coach or train, then to visit the Chau Giang Cham village, tourists can be reached by the river on Chau Giang ferry to Con Tien
– If taking a boat cruise along the river, tourists can sense deeply the peace and fresh feeling of the sanctuary in the morning, at noon or sunset.
The best time to visit:
-You can visit Cham village at any time in year
– However, An Giang also has many special festivals, we recommended you should choose to visit An Giang in the festival season, this is a bustling time and there are many exciting activities .
-Spring is the season of many large festivals, is the best season in An Giang. If you have the opportunity to visit in these time.
If you like our articles, please click the LIKE and SHARE button as a support for our next posts. You have any questions for us, leave your comments below!
Post by: Admin - Posted at: October 31, 2018