GET LOST IN PHU AN BAMBOO VILLAGE
GET LOST IN PHU AN BAMBOO VILLAGE
Post by: Admin - Posted at: August 14, 2018
GET LOST IN PHU AN BAMBOO VILLAGE,
BINH DUONG PROVINCE
Located in Binh Duong Province's Ben Cat Commune, away 35 kilometers from Ho Chi Minh City, Phu An Ecological Bamboo Museum and Botanical Reserve, also known as the "Phu An Bamboo Village", is one of the biggest bamboo museums in Southeast Asia. Until now, bamboo tree remains closely connected to Vietnamese culture.
Bamboo tree as a symbol of Vietnam. Bamboo groves have long been an emblem of the Vietnamese countryside being closely associated with Vietnamese people's life. In Vietnamese culture, bamboo trees symbolize the vitality, which can resist against strong wind and storm. The image of bamboo trees also appears in many Vietnamese Vietnamese fairy tales like "Cay tre tram dot" (The hundred portion bamboo) or "Thanh Giong" (The story of Giong). Have you ever thought the hundred portion bamboo really exist in reality ? You can find the answer at Phu An Baboo Village.
The vast ecological reserve with about 198 bamboo species, including many rare varieties collected from every corner of the country, is open for tourists to wander the day away. Coming to Phu An baboo village, tourists also learn about how to plant and take care of Vietnamese bamboo trees as well as go on a sightseeing tour, visit and buy many bamboo handicrafts.
Phu An Bamboo Village
The village was heavily bombed during the Viet Nam War. Phu An Bamboo Village has created an Eco-Museum of Bamboo and Botanical Conservatory with the aim of conserving biodiversity, protecting the region's bamboo forests, The initiative carries out conservation activities to protect and restore Viet Nam's bamboo, including endangered species from across the country.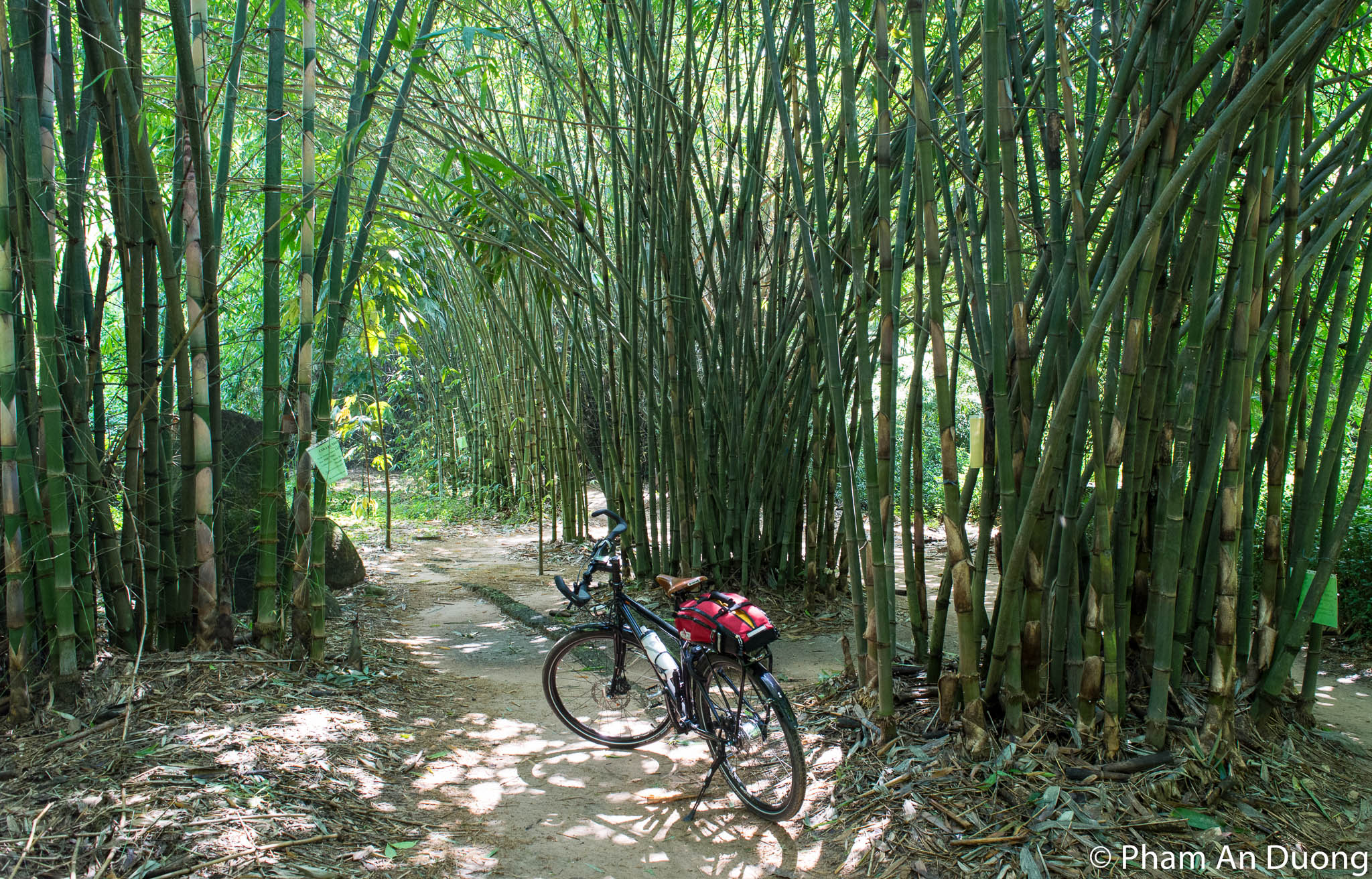 Beside giving a unique daytrip for tourists, Vietnam's first bamboo reserve is also a multipurpose center promoting scientific research and ecosystem conservation for scientists and students while educating the local community about environmental protection and the value of ecotourism.
Benefits of bamboo in Vietnamese people's life – Eco-friendly materials in the future.
In Vietnam wars: During the war, Vietnamese people sharpened bamboo trees to make weapons to fight against foreign invaders.

Bamboo handicrafts
Everyday items, such as baskets, chopsticks, fans and many other things are made from bamboo. These days, the exports of bamboo handicrafts have brought in a revenue of millions of USD annually. Bamboo products have become more popular in Vietnam and internationally, they have helped many villages and households escape poverty. The tables, chairs, plates and lanterns in the café are also made of bamboo enhancing the uniqueness for the café.
Constructions and architectural structures
Bamboo trees are also used as materials to build houses. Most of architectural structures in the world are made of cement or wood, but just only in Vietnam, bamboo trees are used to serve for many structures and ecological buildings. Several architectural sites using bamboo have received international awards.
Coming to Phu An Bamboo Village, you can see many eco-friendly products made from bamboo. They have studied and created the soundproofing panels made from baboo.
Bamboo also appears in many Vietnamese folk game such as: "Banh dua" – Bamboo Jacks, "Nhảy sạp" – Bamboo dancing or "Đi cà kheo" – Stilt walking. Also the tourist could try these Vietnamese folk games when coming to this place.
Musical Instruments: Bamboo tree is also used to create many traditional instruments likes flutes, T'rung,… Tourist also see many unique instruments in Phu An Bamboo Village, of course.
Food: In addition, bamboo tree has nutritional values as bamboo shoots are commonly found in Vietnamese kitchen.
Bamboo is one of the ideal materials for the 21st century because it is environmentally friendly. It has been widely used in many construction and decorations projects in many countries.
What to do in Phu An Bamboo Village ?
The Phu An Bamboo Village eco-tourism area is divided into 2 mainareas: outdoor area and indoor area for study
 The Bamboo Reserve Area ( out door area): This is the main area of ​​bamboo village with ​​about 200 species dedicated for growing and preserving the original bamboo species of our country.
The reserve also features a museum displaying tools, musical instruments and art made out of bamboo.There is also a small theater where visitors can watch documentaries about bamboo.
Besides, tourists can also try to learn how to grow and take care of bamboo as well as buy products made from bamboo such as baby basket, fan, hat …
 Study area: In addition to providing an ecotourism site, the reserve is also a research center and laboratory for students and academics. Coming to the study area, you will be able to see the interesting products made from bamboo as well as learn about this tree through pictures and documentary.
 Visitors can rest on stones, rocks and boulders scattered throughout the garden while they enjoy local fruits and unwind to the chatter of the area's local birds.
Tourists can ride bikes along shady roads that meander through the greenery or have a swim in the Chua Canal, a tributary of the Saigon River.
How to get there?
Take a taxi or ride your motor-cycle like the map below. You can start at Mien Dong Bus Station.
Notes:
Bamboo village is suitable for those who like to visit, learn, study about the bamboo.

Due to the special characteristics of bamboo groves, there are many insects such as mosquitoes and ants in the bamboo museum area (outdoor area).

Eat and Drink: If you want to eat at the bamboo village you need to book in advance.

In the bamboo reserve, restaurant and travel services do not thrive so, you need to prepare water and food by yourself for a smooth ride.

Always keep the general hygiene and absolutely do not litter!
Information
Address: 124, Route 774, Phu An commune, Ben Cat Dist, Binh Duong Privince

Phone: +84 274 3580 717

Ticket price: VND20,000/ a person

Opening Hours: Monday – Sunday from 8:00 AM to 6:00 PM
Coming to the area, we sure that tourists seem to get lost in the maze of bamboo lines and products. Definitely interesting and useful trip!!!
Post by: Admin - Posted at: August 14, 2018